Description
The event was successful. Fourteen people had registered with a commitment to express their stories on the film-medium. The conversations were intense and insightful. Each of the participants walked away with value.
Directory Rohit Padaki is looking forward to announce his next workshop. He is also thinking about planning a more elaborate 8 week course on many aspects of filmmaking.
Listen to what he has to say about the workshop. Watch the video below to see what participants say about their experience of the workshop.
---
If you are someone who has been brewing a story in your head for a long time but are not sure how to tell it out for the silver screen, here is a workshop that will aid you with the right tools and techniques to put your story down on paper.
Director Rohit Padaki of Dayavittu Gamanisi fame (a movie that earned 6 Filmfare nominations), takes you through the basics of writing a story in this workshop, designed to aid people who want to be story tellers.
This workshop teaches you to write your story in a compelling form by making use of the Three-Act Structure and few proven techniques for character development.
The sessions spread over two days, will be a mix of theory and practical sessions and will require active participation from the participants. Be sure to bring your book / laptop with you.
Event Organizer
This event is organized by Padaki Productions.
Testimonails
"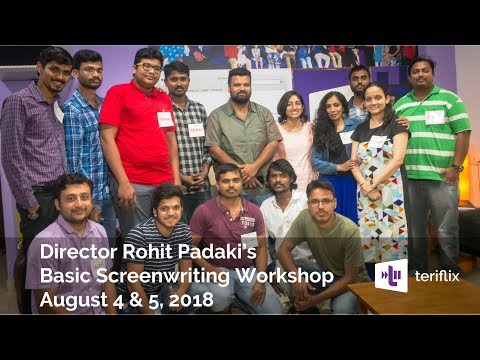 Very useful workshop. It has brought out the writer in us. We would love to come back for more."
-
Participants
, Basic Screenwriting Workshop from director Rohit Padaki
Cancellation Policy
3 days or more before the event: Cancellation with 50% refund.
24 hours to 3 days before the event: Cancellation with 25% refund.
Less than 24 hours before the event: Cancellation with no refund.
NOTE: Refunds, if any, shall be processed within 20 days from the date of cancellation. All refunds shall be processed offline (via bank-transfer or cheque) and not through the payment gateway.
Venue
TERIFLIX Purple Girinagar
#177, 50 Feet Road, 5th Cross,
Opp. Avalahalli BDA Park,
BSK 3rd Stage, Girinagar,
Benglauru - 560085
Google Maps Link